Sterlization
Surgery Upkeep:
At the beginning of the day the floors are thoroughly scrubbed with scented Phenol which leaves the place clean and smelling fresh. All carpeted / non carpeted areas are meticulously cleaned with a high power vacuum cleaner to get all the dust mites out and prevent air borne infections if any. The chairs and all moving / rotating parts are sprayed with antiseptic solution and wiped clean with a soft cloth. After every patient the same procedure is followed for the chairs to prevent cross infection.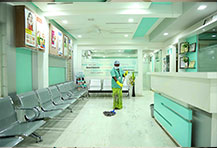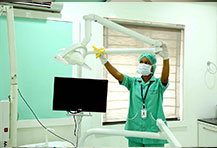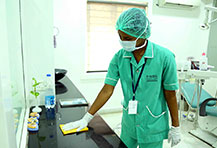 Instrument Sterilization:
All instruments are thoroughly washed in antiseptic solutions and wiped clean. They are the packaged into sterile pouches and vacuum sealed to prevent contamination. Our office offers a large Sterilization and Disinfection Center utilizing the latest techniques and equipment to ensure patient safety. This Center guarantees that all dental instruments and equipment sterilization is on par with international standards of asepsis.
Our office uses a "SEALED POUCHES" system which eliminates unnecessary handling of individual instruments by the disinfection staff which helps to eliminate exposure to the instruments. The instruments are put through a series of cleaning procedures and wrapped for final sterilization. The instruments are then placed into a digital autoclave and autoclaved at 121 degrees. At this temperature all known disease causing bacteria are known to be killed. This is the standard autoclaving procedure followed in Operation Theatres worldwide Once sterilized each pouch has a marker and are only unwrapped only during the treatment procedure.
Our office also has dental units in each treatment room which have self-contained water systems. These water systems utilize sterile water which simply means that any water going into your mouth while sitting for a procedure is sterile. These systems are flushed between patients. The system is also cleansed on a regular basis which reduces the amount of biofilm.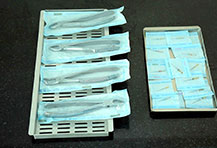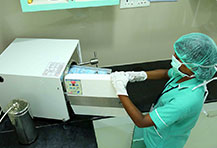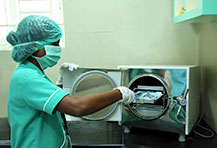 Disposable materials:
We use a fresh, new pair of gloves for every patient that is disposed off immediately after the treatment is completed. In addition we use disposable masks, suction tips and plastic glasses. All local anesthetic is given from sealed syringes that are opened in front of you and disposed off immediately after treatment. Dentists and patients mandatorily wear "Blue Blockers" (glasses) during tooth whitening procedures to prevent any harm to the eyes. We also use bottled water for rinsing your mouth during procedures.
We follow the following SAFETY PRECAUTIONS during treatment procedures to ensure that our patients are protected.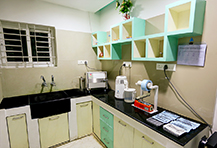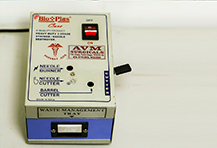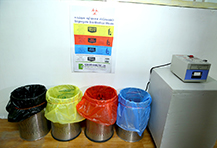 The patients are provided with LEAD JACKET to avoid radiation during x-ray procedures
We do NOT use NICKEL in the metal frame work of PFM (porcelain fused to metal) crowns.
We do NOT use ACID ETCHANT in the composite resin fillings.
We offer METAL FREE options like glass ceramic and zirconia ceramic in crown and bridge work.
We do not use SILVER CONES in root canal fillings.