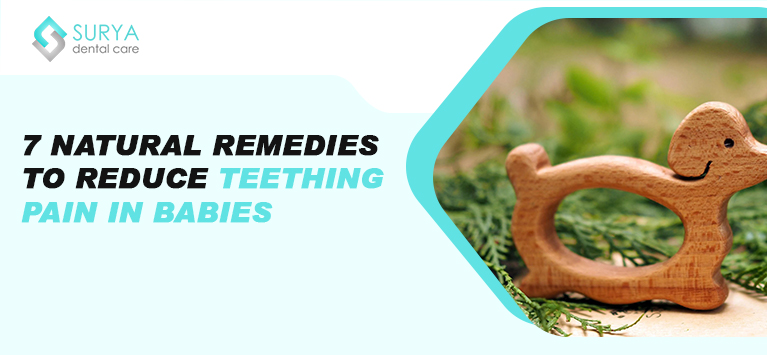 Do you know why babies put whatever they get on into their mouths?
It is because their teeth are growing. Even though it is a sign of development, toddlers encounter pain and swelling in their gums when the teeth begin to break through the gums. Hence the infants bite something to ease their teething discomfort.
Generally, the first tooth in babies starts to erupt around the age of six months. The remaining teeth will appear before the little champs become 2 years old. When teething occurs, the toddlers become a little fussy due to the painful feeling they undergo. Besides this, it exhibits symptoms like excessive drooling, sore gums, trouble sleeping, and fever at times.
Hence every parent should aware of certain safe techniques to soothe their kids' teething pain. In this blog article, our pediatric dentists in Trichy have shared certain natural tricks to ease teething pain.
Why teethers are important for babies?
You can get a variety of teethers made up of different materials like rubber, wood, thermoplastic, rubber, and much more. Apart from reducing the pain of teeth eruption, the teethers allow infants to explore their mouths and learn how to produce sounds, and words. In essence, the teethers teach speech and sound production indirectly.
Various teethers like chewing toys are coated with various polishing agents to make them more appealing hence that kids would like the device. As the safety range of such products is dubious, the babies may develop various dilemmas if they put those teethers into their mouths.
Hence it is better to provide natural teethers or prefer natural teething pain remedies.
What are the simple & natural teething pain remedies kids dentists prescribe?
1) Wooden teething toys
Wooden teething toys are superior to the teethers made up of rubber, and plastic that are widely used. It is because these wooden devices are mostly made up of neem, beechwood. It implies that these teething toys have antibacterial properties and are eco-friendly. Furthermore, they guarantee a wonderful sensory feeling to the babies.
2) Massage the kid's gums
Massaging the gums from front to back will apply pressure that provides relief from aching gums in the infants. Make sure your hands are clean before starting massaging. Massaging with the baby organic oil holds an added advantage.
3) Freeze a bottle
Fill up your kid's feeding bottle with water and keep it upside down in a freezer for a few minutes. It freezes the water in the nipple. When babies chew the cold nipple, the frozen fluid will temporarily numb the gums so that the pain is reduced to a great extent.
Similarly, you can use a frozen washcloth to mitigate the teething pain.
4) Chewing on a toothbrush
The rubber heads and hairs in a toothbrush provide a nice massage to reduce the pain when teeth begin to erupt. So it is better to allow your little champs to chew a toothbrush. Another advantage of this practice is, that the kids get used to the oral hygiene appliance in their infanthood itself.
5) Facial massage
The facial massage involves rubbing your baby's face, jaws, chin, and gums in a circular motion. It also relieves the little champs from teething pain if you do it multiple times a day.
6) DIY Rice Pouches
Wrap one teaspoon of raw rice in clean gauze with a rubber band and place it in a freezer for a few minutes. Then give the frozen rice pouch to your baby. Kids would love the texture of the rice so that they chew the pouch constantly and gets a sense of relief from the teething pain.
7) Organic teething biscuits
The organic teething biscuits of various brands are available in retail. Consult a pediatric dentist to pick the right teething biscuit because certain ingredients might cause a choking hazard in babies.
Bottom line
Breastfeeding is the best way to reduce teething pain in babies. Meanwhile, you should utilize the right teething appliances to lessen the pain. However, certain teethers available on the market contain toxic substances that might make your children prone to various systemic diseases. Hence we prescribe organic teething rings and other natural ways to overcome this discomfort.