Dental Jewellery
Tooth jewellery is the most fashionable thing in today's world. Dental Jewellery is a brilliant way to add sparkles to your smile and stand out of the crowd.
The best of film stars, models and high society people are into tooth jewellery. Teenagers and pretty girls, can use tooth jewellery to add a sparkle to their beautiful smile.
It's true. With Surya Dental Care's jewels you can actually have a sparkling smile! It's easy, painless and a superficial procedure which requires no alteration to your teeth.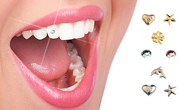 5 minutes procedure:
You can choose from a variety of coloured crystals
Looks stunning! You can be sure to catch a lot of attention
Superficial. No drilling required.
Painless.
Very cost effective.
Can be removed at any time if desired.
can be fixed again at a later stage

During a procedure, we fix a jewel on your tooth surface. The jewel does not damage tooth tissues and has no side effects – except for the increased charm of your smile! Call it an oral fashion statement to stand out among ordinary mortals or simply an effort to blend in with the bold and the beautiful.